KEENER VOTING HOUSE
Keener, Alabama
Any correspondence: Ray Lewis --- lewis3601@comcast.net

The Keener Voting House is located in the community of Keener, in Etowah County, Alabama. The house is located approximately 3.5 miles south of the Etowah-Dekalb county line, at the intersection of US Highway 11 and Tabor Road, behind E.D. Amos' Store. This house is made of wood and was constructed in 1932. Dimensions of the house are 12 x 14 feet.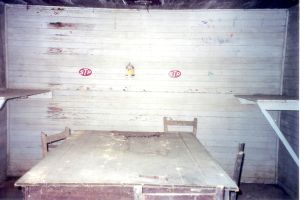 County Commission records indicate that the commission approved the building of the house on April 22, 1932. The house was used for a voting place until 1963, when the polling place was moved to the Keener Elementary School, which is now closed. During the period of time when the building was used for a voting house, voters voted for presidents from Franklin D. Roosevelt to John F. Kennedy there. There is only one other known voting house still standing in Alabama. The contents of the building consists of a large table and 4 straight-back cane-bottom chairs. Shelves along the walls made a convenient place for voters to mark their paper ballots.
The house remained vacant for many years and seemed to be doomed for self-destruction due to age and lack of attention, until some local residents took an interest in restoring it. Rotted lumber was replaced, broken and rotting windows were replaced, the table and chairs were repaired and restored, the roof was repaired and a new coat of paint was applied. A local resident made new curtains for the windows. After the restoration was completed, the Etowah Historical Society erected marker at the site to commemorate the old Voting House in 2006.
In April of 2007 sponsors were notified that the house had been listed on the Alabama Historical Commision's Register of Historic Places. Some local residents still remember voting at the house or serving as poll officials. One favorite story of the community goes like this: Mr. G. C. Hawkins, a local educator and community leader at the time the voting house was used served many times as election manager for Beat 9. At the appointed time Mr. Hawkins would stand in the doorway of the voting house and speak in a loud voice "Hear ye, hear ye, the Keener Voting Place is now open." The reverse procedure was used for closing the polls at the required hour.
Once doomed to quietly die away into history, the Keener Voting House is now alive and keeping its place in history, and is open for one and all to see.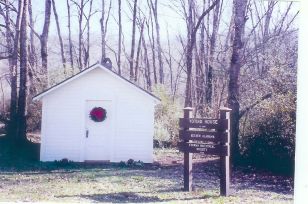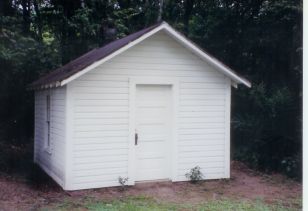 This page has been viewed:

Times Since Saturday, July 28, 2007